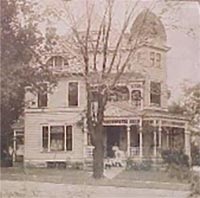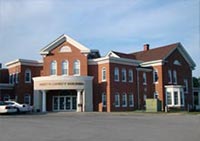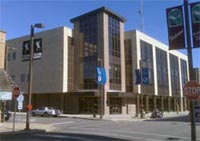 Pictures top to bottom:
Vandalia North Office Building (circa 1900), Fayette County Courthouse, Effingham County Government Building.
The Law Group has two convenient locations, one in Vandalia, Illinois (Fayette County) and one in Effingham, Illinois (Effingham County). The Vandalia offices are located across from the Fayette County Building in downtown Vandalia. The Law Group's Effingham Offices are located in the former Schniederjohn, Weber and Orr Building two blocks east of the Effingham County Building. Both offices are located near Interstate 70 in South-Central Illinois. Due to its central locations and the practice areas of its attorneys, Law Group of Illinois, Ltd. has traditionally served clients from a broad geographic region. While its physical locations are in close proximity to the county courts in Fayette and Effingham Counties, Law Group of Illinois, Ltd., has the ability to serve their clients effectively throughout South-Central Illinois and beyond.
The Vandalia offices of Law Group of Illinois, Ltd. consist of two, two-story Victorian homes of historical significance built in the late 1800's. The North Building is an example of the Queen Anne style and was once the home of Charles Capps, a local merchant. The South Building, an example of the Italianate style, was once home to a circuit judge. Although these homes have been converted for office use, effort has been made to preserve their historic character, period decor, and original atmosphere.
The firm's Effingham offices are located in the former Scheiderjohn, Weber and Orr building located in downtown Effingham, just East of the courthouse. The offices were renovated in 2014 for increased functionality and aesthetics.
The success of Law Group of Illinois, Ltd. results from each attorney having specific areas of legal emphasis. Because of this, The firm is able to offer clients experience and expertise in most areas of the law. The group practice stresses interaction among the attorneys. Law Group of Illinois, Ltd. places a legal matter for action with the attorney who is most qualified in the area of law or procedure concerned. Some legal matters require the team effort of more than one attorney and staff personnel.
It is the philosophy of Law Group of Illinois, Ltd. that attorneys who limit their practice are able to keep current with changes in the law, are able to handle matters more expeditiously because of a familiarity with the type of law with which they are dealing, and are therefore better equipped to serve the needs of clients.
Every effort is made by Law Group of Illinois, Ltd. to provide quality legal services and to obtain desired legal results. The Law Group is proud of its attorneys, team practice, support staff, firm administration, computerized legal research, data and word processing, which work in harmony to achieve these goals.